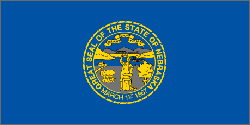 Nebraska
"Cornhusker State (1945); Beef State"
Motto

Equality before the law

Capitol

Name Origin

From an Oto Indian word meaning "flat water"

Statehood Date

March 1, 1867 (37th)
Cities in Nebraska
NOTE: Not all cities are displayed. Please narrow your selection by using the search above.
Official Symbols
A state's official symbols represent the composition and culture of the land and people who live and have lived here. Below are the symbols of Nebraska along with the year they became official.
| | |
| --- | --- |
| Flower | Goldenrod (1895) |
| Fish | Channel Catfish (1997) |
| American Folk Dance | Square Dance (1997) |
| Ballad | "A Place Like Nebraska" (1997) |
| Tree | Cottonwood (1972) |
| Bird | Western Meadowlark (1929) |
| Insect | Honeybee (1975) |
| Gemstone | Blue Agate (1967) |
| Rock | Prairie Agate (1967) |
| Fossil | Mammoth (1967) |
| Song | "Beautiful Nebraska" (1967) |
| Soil | Typic Argiustolls, Holdreges Series (1979) |
| Mammal | Whitetail Deer (1981) |
| Grass | Little Bluestem (1969) |
| Beverage | Milk (1998) |
Demographics
Population Density

22.3 people per square mile
Geography and Weather
Land Area

76,872 sq mi. (199,098 sq km)

Lowest Elevation

0 ft (0 m)

Average Elevation

2600 ft (792.48 m)

Highest Temperature Recorded

118°F (48°C) on July 24, 1936

Lowest Temperature Recorded

–47°F (–44°C) on December 22, 1989